BRAD ASKS ANGELINA FOR A DATE, but she doesn't want to go out with him. Should she be legally free to turn him down?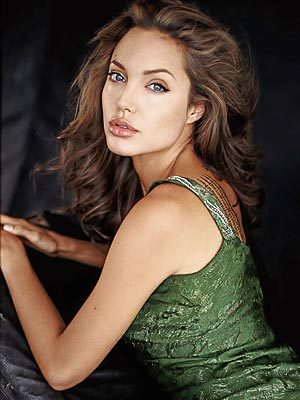 She's free to say yes or no to anyone who asks her for a date. Shouldn't she be just as free to say yes or no to anyone who asks her for a job?
You are free to join a gay men's choir because you like being with gays, or to avoid gay pride parades because you
don't
like being with gays. You can volunteer for a political campaign, attend a cocktail party, go to the beach -- or not -- and your reasons may be admirable (the candidate's record of public service) or not so admirable (the candidate's skin color). The choice is yours. Other people may disapprove of what you choose or why you chose it, but the law gives them no authority to stop you.
Freedom of association should be valued as highly in our economic life as it is in our social life. When it comes to choices made by consumers, tenants, and employees, it usually is. The government cannot make you buy from a store you don't want to shop in -- and it doesn't matter whether your reason for avoiding it is that the prices are too high, the goods aren't American-made, or the owner is a Jew. The same is true for employees who don't want to work for an employer, or a tenant who declines to rent from a landlord. They are free to say no, and the law doesn't inquire into their motives.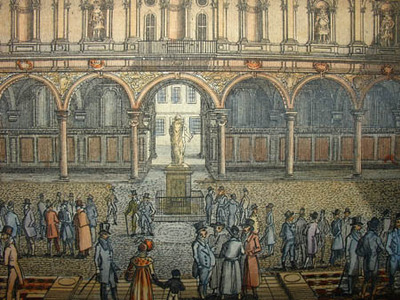 Interior of the Royal Exchange in London. Voltaire observed there the striking power of the free market to break down discrimination.
It's easy to understand the desire to protect individuals from being discriminated against unjustly. But are lawmakers truly equipped to decide which kinds of discrimination are reasonable and which aren't? Does Big Brother know better than the business owner whose bottom line is at stake whether a given applicant is right for a given job? If the government won't second-guess Angelina's decision not to date Brad or buy from Brad, why should it infringe on her prerogative not to hire Brad or rent to Brad?
and
economically -- tolerance and cooperation increase, and ugly prejudice recedes.