According to the Washington Post's
@mentionmachine
, Ron Paul was the most talked about candidate "on the most tumultuous day" of the South Carolina campaign.
The graph below confirms that the establishment media is pushing Newt Gingrich and Mitt Romney while ignoring Ron Paul.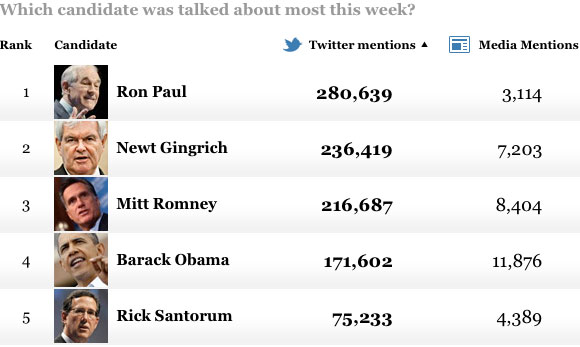 Interestingly, the corporate media paid more attention to Barack Obama during the South Carolina primary than his presumptive Republican opponents.
The
http://www.washingtonpost.com/blogs/election-2012/post/atmentionmachine-tracks-the-2012-candidates-whos-up-whos-down-on-twitter/2011/12/20/gIQAHC9s7O_blog.html
as an "app that monitors Twitter and media across the Web for political candidate mentions, revealing trends and spikes that show where the conversation is and why. It launched Jan. 3, the day of the Iowa caucuses, and will run through the presidential election in November."
The Republican establishment and corporate media have tried to ignore Paul since the campaign began.
Chris Wallace
of Fox News said the results in Iowa would not count if Paul won. Iowa governor
Terry Branstad
said in December that if Paul won the caucus in his state Republicans should ignore the victory.
Republican establishment media figures – most notably
Rush Limbaugh
,
Michael Savage
and
Mark Levine
– have viciously attacked Paul.
Earlier this month, CNN correspondent
Dana Bash
said she was "worried" about Ron Paul's success in New Hampshire. Paul's campaign
cut off an interview with her
after she tried to blame Paul for a media swarm in a New Hampshire restaurant that forced Paul to cut short a meet and greet, a situation that was created by
the media.
The Post's app adds more weight to the argument that the establishment media is purposely undermining the Paul campaign by either ignoring the candidate or negatively covering him.
In addition to the obvious establishment media campaign to defeat Paul, there is evidence that the voting process is being manipulated in order to defeat him.
As
Eric Blair
noted yesterday, there is something odd about GOP primary voting and polling. He finds it highly suspicious that Newt Gingrich won the South Carolina primary after canceling an event the day before due to lack of attendance. Ron Paul held an event in Charleston on the same day that was attended by over a thousand people.
"Primary elections are traditionally driven by enthusiasm. In other words, the average voter does not turn out for primaries unless they are motivated by a certain candidate. So, could someone please explain to me how Newt Gingrich, who has virtually no ground game, no money, and no fervent supporters, just won the South Carolina primary?" Blair writes. "Could the conspiracy to keep Ron Paul out of the Oval Office be this coordinated, this pervasive?"